Please contact us for any rhyme or reason :)
On this page there are a number of contact options:
Contact Pride Bar;

Contact this Share Exchange Platform (administered by INTJ Billing);

Contact Clarke Towson CEO of INTJ Billing (the creator and administrator of this Platform)
Pride Of Our Footscray Community Bars contacts details are: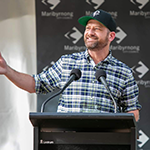 Phone/Text | 0417 219 899
Email | meet@prideofourfootscray.bar
Facebook (Business Page) | https://www.facebook.com/PrideofourFootscray/

Facebook (Personal Page) | https://www.facebook.com/mathew.okeefe

Instagram | https://www.instagram.com/prideofourfootscray/

Google Map |https://goo.gl/maps/eF5KwQuNy6pyVRZK9

You can also contact us via our main website:
https://sites.google.com/prideofourfootscray.bar/pridefootscraycommunitybar/about-us/contact-us

For any inquiries in regards to this online platform marketplace for the buying and selling of shares in Pride Of Our Footscray Community Bar please contact INTJ Billing CEO Clarke Towson. Clarke is a degree qualified Computer Scientist with a lifetime of technical skills and experience with a background in High Performance Computing (Supercomputing). Clarke worked mostly on classified projects for the federal government mostly performing supercomputing work for the Sea 1000 Future Submarine Project. Clarke has recently semi retired and has implemented this platform and is responsible for all technical and administrative tasks in relation to it. The Pride Of Our Footscray Community Bar operates at arms length to INTJ Billing.
Clarke is currently working on Bitcoin consulting to the general public at intjbilling.com http://intjbilling.com/INTJBitcoinConsulting.html
Clarke is a volunteer in the Melbourne Transgender Community engaged in transgender advocacy work (film production right here at The Pride of Our Footscray Community Bar) through his non profit organisation Chrysalis Australia which he co-founded with his friend and business partner Paul Davidson.

You can check out the videos on the Trans Showgirls YouTube channel here:

https://www.youtube.com/channel/UCsvy3LXkZJUvik7rt45mK1w/videos